SALE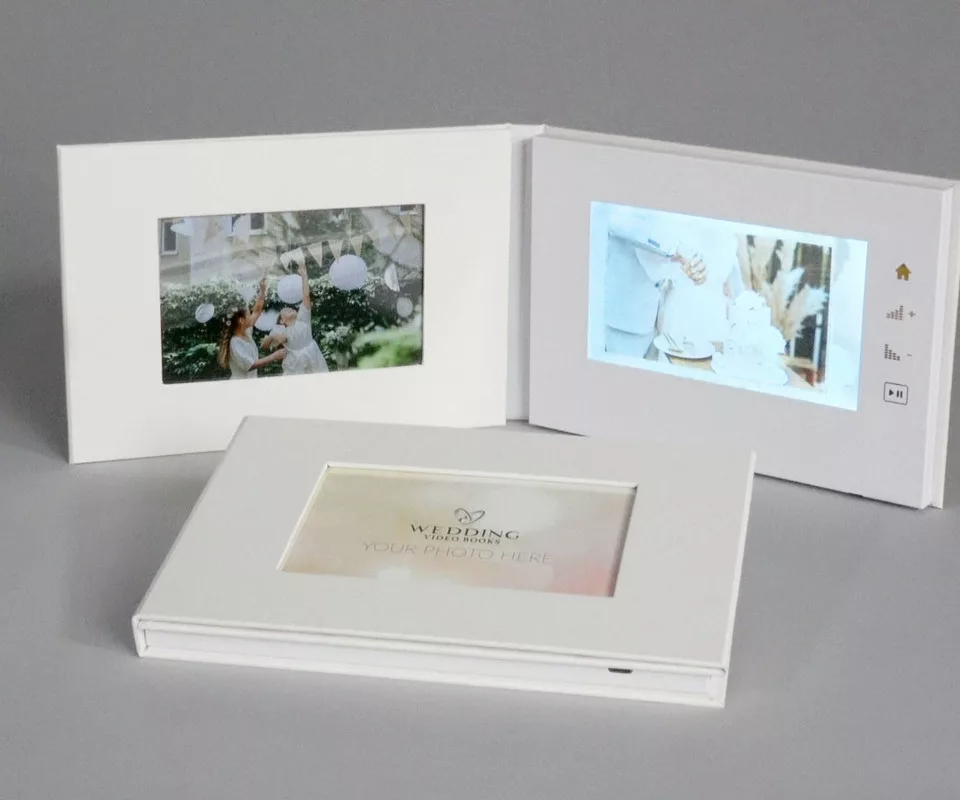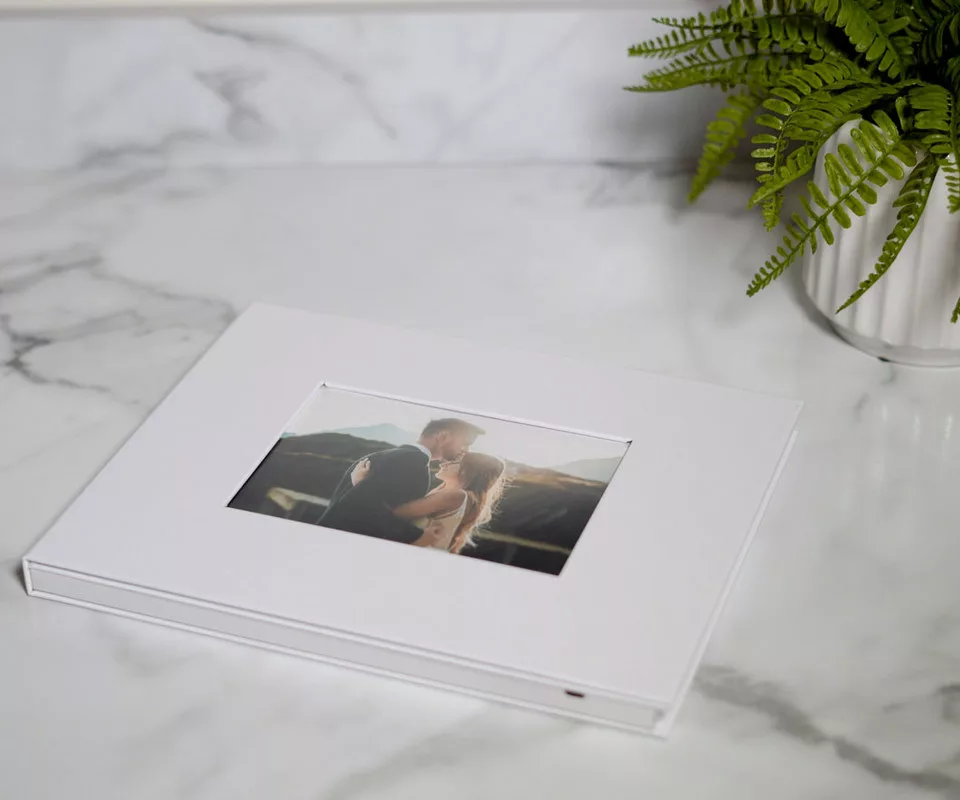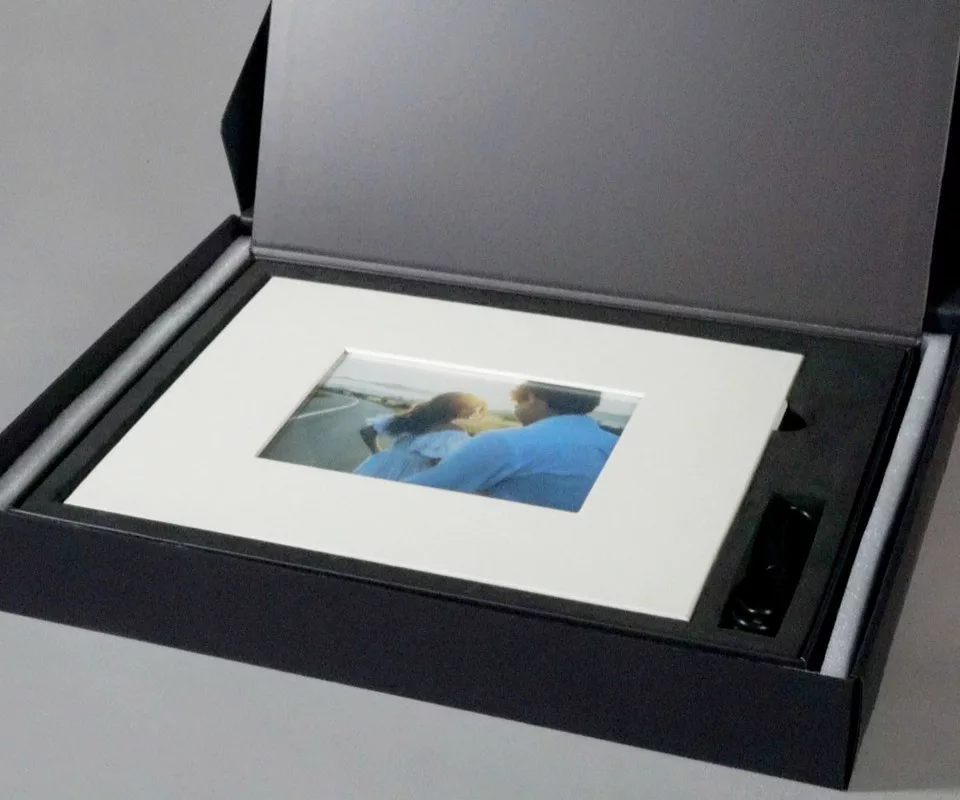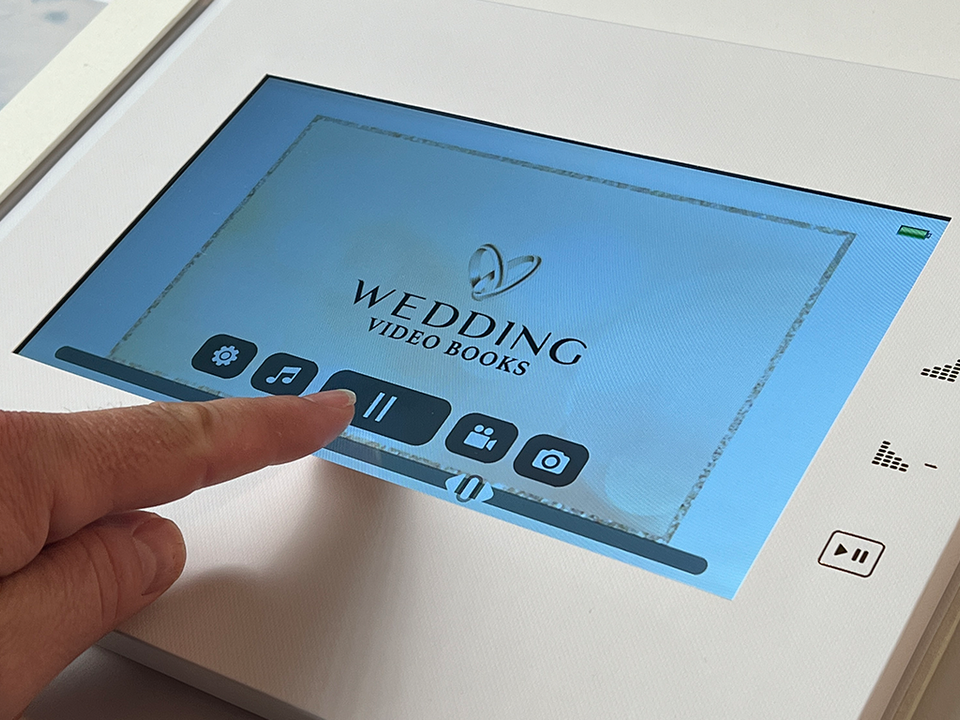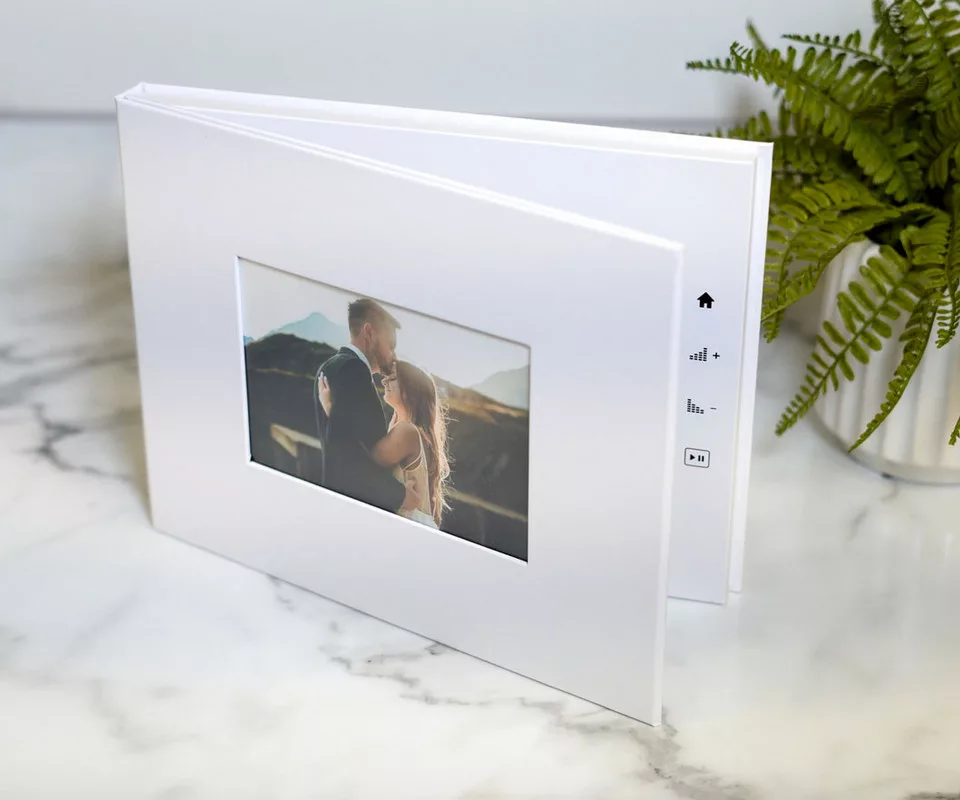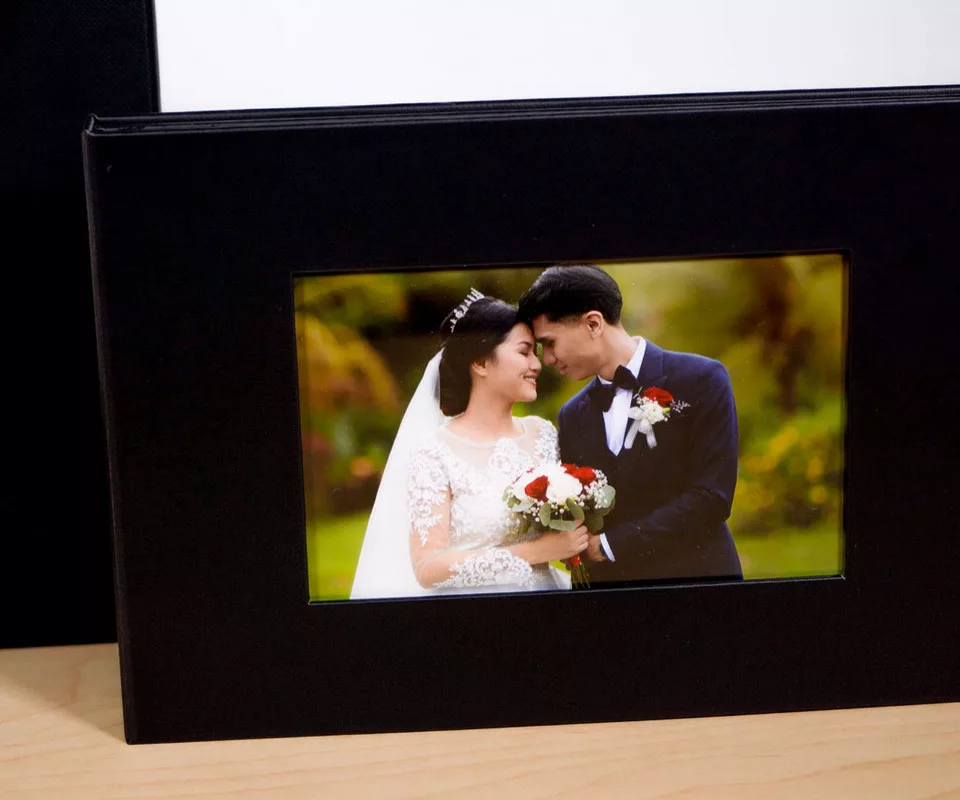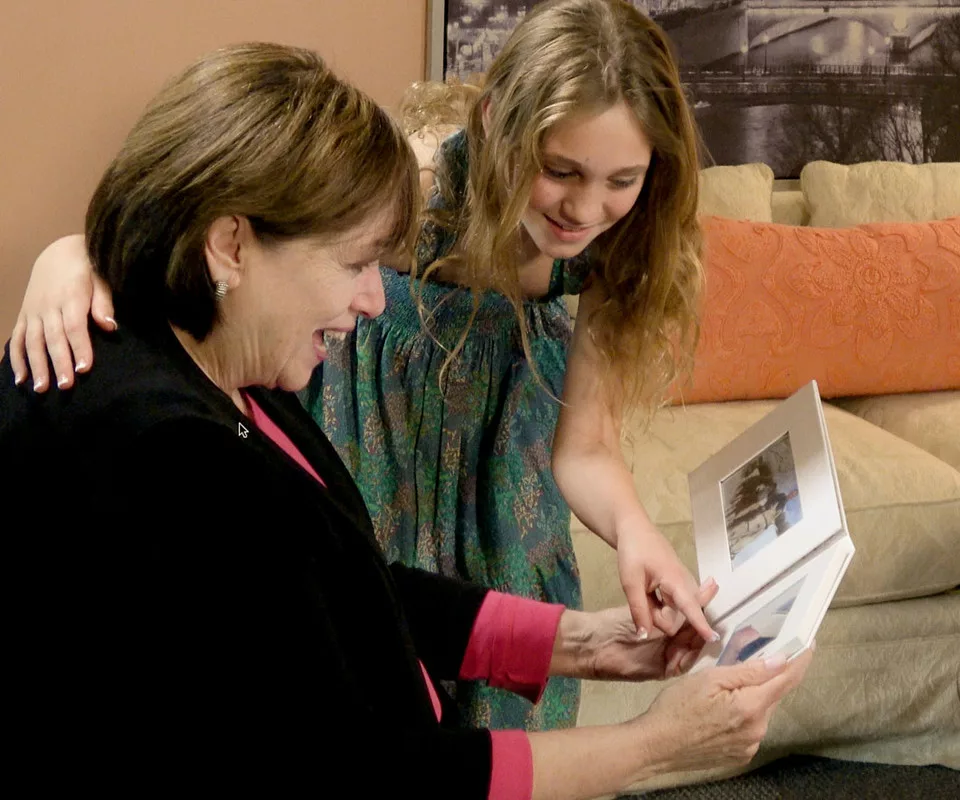 Product Description
Introducing our Original Touchscreen Wedding Video Book. An exceptional creation that seamlessly blends innovation and elegance, each video album presents your videos and photos on a stunning 7 inch HD IPS touchscreen. Enjoy the magic as you navigate through your  memories at your fingertips. Our original video book captivates your senses with stereo sound, allowing you to relive your wedding moments in immersive and meaningful detail. 
The intuitive touchscreen interface ensures effortless interaction, putting you in control. Our Original Wedding Video Book makes an incredible and memorable wedding gift! 
What truly sets this Wedding Video Book apart is our cover window, thoughtfully designed to showcase your best wedding photos on the outside cover and inside cover. It's a personal touch that adds a unique and sentimental element, making this book truly your own. 
It's the perfect keepsake to showcase your love story, keeping your favorite wedding memories close at hand in a beautiful heirloom-quality album. 
Rechargeable, fully updatable, and easy to upload your photos and videos. Each  Touchscreen Video Book is shipped fully customized, charged, and ready to play. Just make it your own by uploading easily from any device!
PRODUCT BONUSES (Included): High quality mailing box, Premium USB-C recharging cable, Microfiber Screen Cleaning Cloth, and Care Instructions
COVER STYLES:
Ultra-SoftTouch Covers in White and Black
PREMIUM FEATURES:
Immersive 7″ HD IPS Touchscreen
Stereo speakers with high quality sound
4 GB of Memory stores up to 2 hours of HD video and 100+ photos
Video Book Dimensions: 9 1/4″ x 6 3/8″
Fully rechargeable (up to 5 Hours of Playback) with USB-C cable included
EASY FUNCTIONALITY:
Video book automatically plays when opened
Drag & drop to load more photos and videos with our simple online Media Manager
Playback controls: Skip, Rewind and Fast Forward
HOW IT WORKS: CREATING A WEDDING VIDEO BOOK
Purchase a video book for yourself or as a gift
Click the link we send you via email after purchasing
Effortlessly upload photos and videos to your private Media Manager using your mobile phone or computer (no apps required)
Select images for your front cover and inside cover
Add images and videos to play on the screen
PREMIUM PRINTING:
Personalize your Front Cover Window Photo:

4″ x 6″

Personalize your Inside Cover Window Photo:

 4″ x 6″
Experience Wedding Video Books
Watch your wedding vows, experience the reception, feel the music, and re-live every moving moment in vivid HD video with immersive stereo sound. Your favorite moments come to life with Wedding Video Books in the palm of your hand. It's an unforgettable way to say I love you — for a lifetime!
American Innovation with Unparalleled Quality
This was the greatest gift our daughter could have ever given us. It sits pride of place in
our house for all to see.
Mal D.
One of the best gifts I have ever received! The quality is excellent and it will be treasured.
Ginny B.
To be able to relive the best day of my life over and over again is fantastic. The quality is amazing, the sound unbelievable and the simplicity of use awesome; thank you weddingvideobooks.com
Margaret B.
I was highly impressed by the fast and friendly customer service that I received. They
anticipated our needs and were very helpful.
Sean Dean
The quality is excellent and the pricing is extremely fair. I recommend these to anyone
whether it be for personal or business use.
Brandon S.
I want to share this with everyone I know! This is such a wonderful product.
Rita R.
IMAGINE YOUR WEDDING VIDEO BOOK
Your Unforgettable Day
Wedding Video Books will delight you and your loved ones for years to come as a treasured photo and video archive for your entire wedding media collection. Never wonder where wedding photos and videos are again! It's easy to create an heirloom-quality video book as an unforgettable gift for you or someone you love.
A Touch More Personal
Wedding photo books are special, but video books are personal. Hold your memories close and watch your wedding videos and images again and again. Our unique touchscreen  experience makes wedding memories fun to watch and simple to enjoy!
Feel The Quality
Choose from a range of elegant cover styles, including Traditional Linen and Premium Ultrasoft available in timeless White and Black. Innovative Wedding Video Books are not only rechargeable but also easily re-loadable, allowing you to effortlessly add more photos and videos. Whether you order one or multiple, each book arrives at your door fully personalized and ready to leave a lasting impression on you and your loved ones!

We are committed to your complete satisfaction with our 100% Money Back Guarantee. Our premium video albums are made with American craftsmanship that we stand behind.
Specifications
Weight:

16 oz

Width:

9.25 in

Depth:

0.7 in

Height:

6.37 in